Cassie, with Fleishman-Hillard in Dallas contacted me to see if I could help spread some cancer awareness information for her client, Texas oncology. Me, being the pushover I am said, "Of course!" So here you go: (click on the link to send a sweet reminder to the mom, sister, aunt, friend in your life who needs a gentle reminder to have her screening done)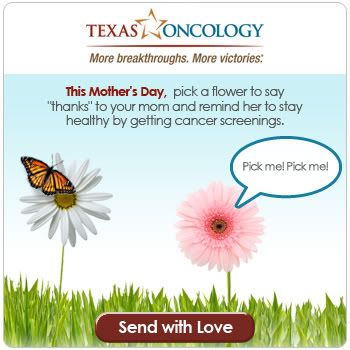 I personally have never been screened for cancer, although it's on my mind quite a lot. My husband's grandmother died recently from cancer and it just seems like everyone knows a woman who has it or has had it these days. Of course, I'm not avoiding it, but without insurance coverage, it's easy to avoid the costly preventative measures that cancer screening provides. So no more excuses, let's get it done. Shall we?
Look on the bright side! Subscribe via RSS.
Technorati Tags: mother's day, cancer screening, Texas