If you are anything like me, you check your blog stats once or twenty times a day…it's a sickness, I know. Even if you don't, this tip is probably something you could use, because if you blog, you do want people to be able to find you, right? (Maybe I'm a mutant, I don't know…)
I recently discovered a website grader (don't worry – it works on blogs too) where you simply enter in your blog URL and after a minute of calculating, it will spit out your score, along with a detailed explanation of why you scored the way you did.
I had a score of a measly "3" when I first ran the test, and now I have a whopping "65", which simply means that my blog scores higher than 65% of other websites in terms of "marketing effectiveness. Just for fun, I ran a comparison (you can do that too) with Rocks In My Dryer to see…well, how I compared. Not pretty, y'all. But I don't have nearly as many links or visits, either. (click on example below to enlarge)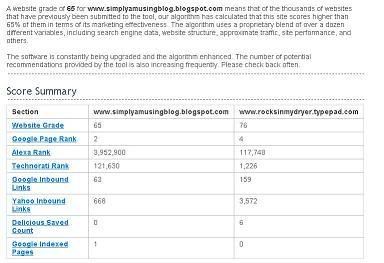 All in all, it was a fun project, and I highly recommend you visit the Website SEO Score Tool at Website Grader…it works for me. For more WFMW tips, head on over to Shannon's @ Rocks in My Dryer — you'll be glad you did.
Technorati Tags: works for me wednesday, website grader, Texas